Befikre's songs are melodious enough but not the best one from Aditya Chopra's team!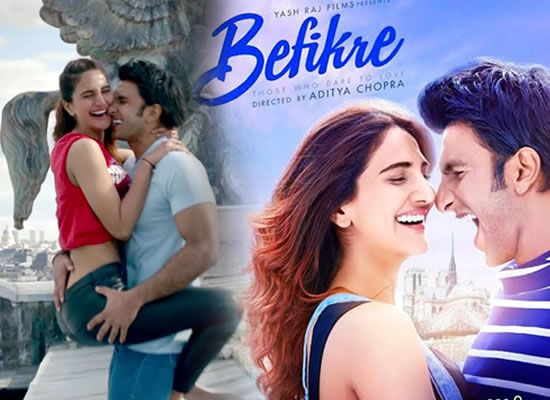 Famous songs like Tujhe Dekha Toh Yeh Jaan Sanam (Dilwale Dulhania Le Jayenge), Humko Hami Se Chura Lo (Mohabbatein), Haule Haule (Rab Ne Bana Di Jodi are some of the many famous tracks that Aditya Chopra has created for his movies ever since he turned director. Though he has managed quite a few other hits too in numerous other movies that he has produced, when it comes to a directorial outing from him you look forward to something truly magic. He does well by roping in Vishal-Shekhar to do the trick while the soundtrack also marks the comeback of lyricist Jaideep Sahni to the scene.
The album begins with song Nashe Si Chadh Gayi is another 'daarul-botal-talli' kind of number unleashed on a listener. Gratefully that is not the case as Jaideep Sahni keeps his words poetic enough to make this one a really hummable outing. The man roped in to do the job is unadulterated too, what with Arijit Singh taking over the mike. It is quite obvious that he totally gets the kind of 'sur' which Vishal-Shekhar wanted to approve for this song and together, they deliver a good melodious number.
The next song is Ude Dil Befikre. As we know, Benny Dayal has become a dependable singer when it comes to youthful, funny and peppy tracks. He doesn't dishearten with 'Ude Dil Befikre' either as the song really lives up to its placement as the title song. In fact this could well have been the opening number of the soundtrack too. However, you do enjoy what the team has to offer as it indeed follows the stage and platform that Yash Raj Films provides and is pretty much in the template zone for Ranveer Singh and Vaani Kapoor to have all the fun in front of the camera.
In the very next song, Vishal-Shekhar switch gears to come up with Je T'aime. With a French start to it, the song takes a relaxing route as you imagine Ranveer and Vaani taking a Gondola ride in Venice with moonlit night to elevate the romantic mood. But, since the song is set in a situation which is an anti-thesis of love and actually talks about 'not falling in love', one waits to see how the song is combined into the film's narrative and the kind of expressions that the actors give while lip synching to the voices of Vishal Dadlani and Sunidhi Chauhan.
In next one, Both Nikhil D'Souza and Rachel Varghese come together to create a lively outing in the form of You And Me. While the song sounds peppy while it is on, astonishingly you don't quite remember much of it after it has been heard even repeatedly. Yes, the hook of the song does play in your mind but from the core lyrics perspective, 'You And Me' doesn't really leave anything behind for you to play it on continually.
The next song Labon Ka Karobaar is the song that follows next and this is the same track which had actually marked the kick-start of the film's marketing campaign. Accompanied by a music video which was made only of kisses between couples, the song was instantly panned, more so due to the visuals. Even as a standalone song, this Papon sung track isn't anything extraordinary and while there is an attempt been made to bring on the nostalgia from the period gone by, the impact is just not sensed.
In the next song, Gippy Grewal and Harshdeep Kaur pair up to pump up the jam with Khulke Dulke. A song with a Punjabi base to it, this one is a festivity outing which doesn't have a single dull moment and tempts you well enough to step on the dance floors. In fact this could well have been the first song to be promoted since it truly belongs to the Yash Raj School of music.
The last one Love Is A Dare is the track that concludes the album and it sounds rather needless as it is nothing but an 'instrumental' version of all the songs that you have heard so far. It amalgams them all together in a quick fire outing and one surprises what was the actual need for it to find a place in the album.
Ovaerall, the music of Befikre is in a lighthearted zone and stays on to be electrifying and energetic for most of its duration. But, it's not a best of the Aditya Chopra. It is entertaining enough.
The songs Nashe Si Chadh Gayi, Ude Dil Befikre, Je T'aime and Khulke Dulke are melodic and peppy numbers.