Dangal's songs are situational with versatility of Pritam and Amitabh Bhattacharya!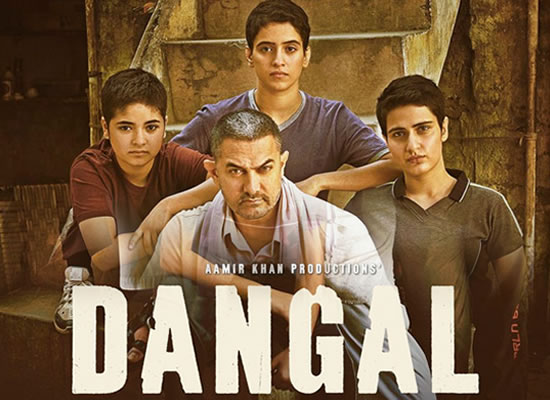 After the hit soundtrack of Ae Dil Hai Mushkil with Pritam as the composer and Amitabh Bhattacharya as the lyricist, now both are coming together for a completely different stage and setting in the form of Dangal. This is where the resourcefulness factor comes in as the team showcases its expertise over the music and words all over again.
The album begins with song Haanikaarak Bapu. Newbie talent Sarwar Khan and Sartaz Khan Barna comes together to sing this song. The song was released almost a month ago and has gained fame over the weeks gone by. It is as rustic as it gets and what sets it apart from the rest are the kind of lyrics that Amitabh has penned for it. It is a hit song.
The next one is Dhaakad which is sung first by Raftaar and later by Aamir Khan. A Haryanvi rap track which has its bearings in the kind of numbers that Baadshah has sung over the last couple of years, this one establishes its uniqueness. The music is subtle instead of going over the top.
The next one is Gilehriyaan which is rendered by Jonita Gandhi. The song has a sweet sounding quality to it and you can't help but hum it along while it plays. While the flavor of almost the whole soundtrack of Dangal carries a Haryanvi flavor to it, this one has a non-film appeal to it and carries a jingle feel.
The very next one is the title track Dangal by Daler Mehndi and one ends up wondering why this wasn't placed right at the beginning of the album. This one makes a very good impression in the very first listening and that is also because portions from it have already been heard as a part of the film's promo. A theme song that lends a lot of weight to the film. It has an anthem track!
The next song is Arijit Singh's Naina, a song that could well have made its entry in any other film as well since it doesn't seem to be specifically designed for Dangal. A pathos filled song that has Arijit excelling as a singer all over again, this one is straight out of the territory of Pritam and benefits further from Amitabh Bhattacharya's lyrics.
The album ends with a situational track, Idiot Banna. Crooned by Jyoti Nooran and Sultana Nooran, it would be pretty much picked by those who liked the kind of music that Tanu Weds Manu Returns had to offer. This one should look good on screen, considering the kind of fun lyrics that have been put together by Amitabh.
Overall, the soundtrack of Dangal is mainly situational though one has to admit that even then, one doesn't mind as many as six tracks coming together. One now waits to see how director Nitesh Tiwari plants it all into the movie.
The songs Haanikaarak Bapu, Dangal, Naina, Gilehriyaan are melodious and situational numbers.