Rangoon's songs are tuneful and enjoyable with peculiar elements of music maestro Vishal Bhardwaj an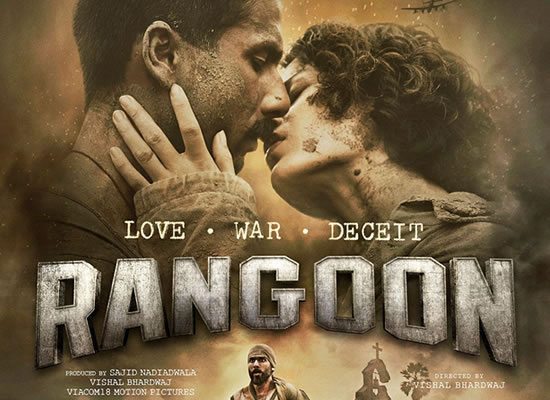 Making music for a period drama is always a complicated proposition. Particularly so when the movie is meant to be a musical. As a musical team you need to stick to the era, but you can't overlook the sensibilities of the contemporary times as well. Now, Vishal Bhardwaj and Gulzar have come together for Rangoon, one imagines a memorable outing for this movie.
The album begins with Sunidhi Chauhan's naughty rendition as Bloody Hell. You truly fall in love with the way in which she modulates her voice, particularly during the 'antara' portions as there is an innocent tease factor that comes into play. It is remarkable to see the manner in which Gulzar spins around his lyrics .
The very next one is Vishal Bhardwaj's Yeh Ishq Hai. Even though this is a love song, there is a hint of sadness to the proceedings. In fact Arijit Singh sings this in a very unusual manner and it is quite clear that there is an attempt to sound different in this outing. Later when Rekha Bhardwaj comes up with a version of her own, it is a different territory that is explored, though the overall mood remains similar.
The next peppy number is Mere Miyan Gaye England. Song Mere Miyan Gaye England which instantly reminds one of 'Mera Piya Gaye Rangoon', a well-known track that is heard till date amongst the enthusiasts of good music. A fun track, it would be good to see how Kangana Ranaut is presented on screen here.
Next songs are Ek Dooni Do and 'Chori Chori' which are bang on target when it comes to bringing back the sound from 50 years back. Right from the lyrics to the designing to the whole composition, there is a sense of nostalgia attached with both the tracks. In fact latter is so lively in appeal that you are taken back into the B&W era.
Sukhwinder Singh is roped in for a couple of different songs. First to arrive is Tippa, a romantic outing which has Rekha Bhardwaj and Sunidhi Chauhan along with O.S. Arun joining the show. One waits to see how this is picturised on screen since there is certain sense of sensuality that is apparently captured in the lyrics. On the other hand 'Julia' appears to be a performance track with an opera feel to it. An all-men team of Sukhwinder Singh, K.K., Kunal Ganjawala and Vishal Bhardwaj comes together for this one and though one doesn't find crooning this one in leisure, on screen it should fit in well into the tale.
To bring further diversity to the soundtrack, there are a couple of Western tracks written in English by Lekha Washington. First to arrive is Be Still which is a jazz outing by Dominique Cerejo. The lady has a good command over the language and the genre, which reflects well in the overall play of the song. On the other hand Vivienne Pocha sung 'Shimmy Shake' is much more playful in appeal and could be fun to watch on screen. As for the 'Rangoon Theme', imagine this one to appear at important juncture of the movie, particularly towards the climax as it has a wholehearted appeal to it.
The music of Rangoon is good and tuneful. Vishal Bhardwaj and Gulzar are in their elements for this historical musical and though what they offer is mainly situational in appeal, there could well be a couple of songs that may go on to have a longer shelf life after the movie is released in cinemas.
The songs Bloody Hell, Yeh Ishq Hai, Mere Miyan Gaye England, Alvida, Chori Chori and Be Still are tuneful and lively numbers.