RunningShaadi.Com's music has a situational soundtrack with a few melodious and peppy numbers.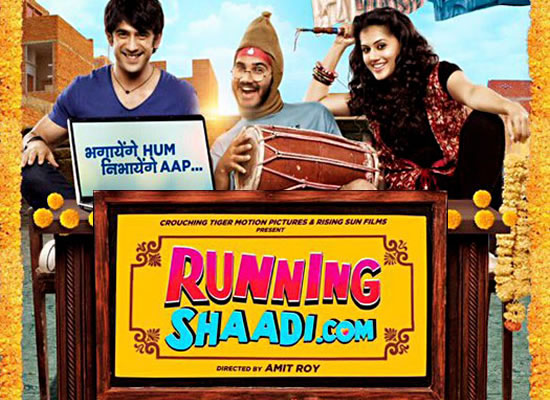 The music album of Running Shaadi.com has a vast group of composers (Abhishek-Akshay, Anupam Roy, Keegan Pinto, Anjana Ankur Singh, Sandeep Madhavan) making an appearance, turns out to be. A style that started with Dibakar Banerjee's Khosla Ka Ghosla and was carried forward by Aanand L. Rai movies like Tanu Weds Manu and Tanu Werds Manu Returns is picked up by Running Shaadi.com.
The album begins with song Dimpi De Naal Bhaage Bunty which is one of the many songs that Late Labh Janjua had sung during last 4-5 years. A festivity track with a fast paced appeal to it, this one gets the feet tapping right at the word go. For those who love their music to have strong Punjabi elements to it, this situational number with likely to go higher fits the bill.
The very next song Mannerless Majnu is rendered by Sukanya Purkayastha in a manner that could well have done justice to Kangana Ranaut. If you liked the music that was offered in Tanu Weds Manu series then you won't mind giving this one a hearing as well. It is strictly situational in appeal.
The next one is Bappi Lahiri's Pyaar Ka Test. There is a distinctive blend of 'desi disco' that is attempted and while Bappi Lahiri is having a lot of fun, one wonders if audiences would be able to say the same. It is a celebration outing with Gandi Baat girl Kalpana Patowary.
The next song is Bhaag Milky Bhaag which sounds like a background score for a documentary outing. Pretty much lifeless in the way it is composed, written and sung, this one is such a sluggish outing that even with the presence of Sanam Puri and Sonu Kakkar.
The next song is Faraar which has Jubin Nautiyal going solo. The singer has been doing quite well of late and has been singing for numerous big movies. This was the song that he did at the time when he just started out and he does really make it exciting enough to be heard a couple of times more. He also sings 'Kuch To Hai' which is pretty much in the same mould. Though the song is a decent hear till it lasts, there isn't anything about it that you really remember. Ditto for 'Main Faraar Sa' by Anupam Roy and Hamsika Iyer which sounds similar again.
Film Running Shaadi.com has a situational soundtrack that doesn't have much recall value despite more than half a dozen songs.
The songs Dimpi De Naal Bhaage Bunty and Faraar are melodious and peppy numbers.